Regular price
$231.00 CAD
Regular price
$300.00 CAD
Sale price
$231.00 CAD
Unit price
per
Sale
Sold out
Share
Sellers Description: Gretzky : An Autobiography by Rick Reilly and Wayne Gretzky (Hardcover, SIGNED)  Condition: Not Used. Great Condition!
=====================================
THE LEGEND OF 99
Born in Brantford, Ontario in 1961, Wayne Gretzky learned to skate on a rink his father Walter built in the family's backyard. Practicing for hours on end, it was here that a young Gretzky developed the skating, shooting and stickhandling techniques that appeared instinctive to so many over the course of his career.
It's not God-given, it's Wally-given.
At six years old, an already-impressive Gretzky joined a league filled with players four years his senior. He scored only one goal in his first season, but improved dramatically over the course of his minor league career and finished it off with an incredible 378-goal season.
Gretzky continued to impress as a teenager, finishing second in scoring during his only full season in the OHA, then first in the 1978 World Junior Championships. It was during that 1977-1978 OHA season that Gretzky started wearing his now-iconic '99', after his usual Gordie Howe-inspired '9' was taken by another player.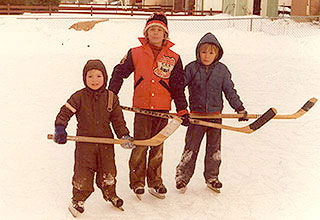 Next came the pros. Rather than wait three seasons in the OHA before he became NHL-eligible, a seventeen-year-old Gretzky signed with the Indianapolis Racers of the WHA in the fall of 1978. His stint with the team was short-lived, however, as the franchise folded only 25 games into the season and Gretzky's contract was sold to the Edmonton Oilers.
The move would prove to be fortuitous, to say the least. Under coach Glen Sather, Gretzky and his Edmonton teammates (including NHL legends Mark Messier, Glenn Anderson, Jari Kurri, Paul Coffey, and Grant Fuhr) would go on to break virtually every scoring record imaginable, win four Stanley Cups, score 400 goals per season as a matter of routine, and set a precedent for NHL dominance the likes of which will probably never be seen again.
He was, I think, the first Canadian forward to play a true team game.
Gretzky's personal accomplishments during the period include seven straight scoring titles, nine Hart Trophies, four 200-point seasons, NHL single-season records for goals, points, and assists, plus countless other records and trophies.
The era would come to an end in the summer of 1988, however, as Oilers owner Peter Pocklington traded Gretzky along with teammates Mike Krushelnyski and Marty McSorely to the Los Angeles Kings in exchange for players Jimmy Carson and Martin Gelinas, first-round draft picks in 1989, 1991, and 1993, plus $15 million. Although many fans felt betrayed, the Gretzky-less Oilers would go on to win the Cup one more time in 1990.
It didn't take long for Gretzky and new wife Janet Jones to become accustomed to life in Los Angeles. Gretzky settled in with his new team quickly, and brought about a period of success never before seen in a southern US hockey market. This culminated in Gretzky's last Stanley Cup Finals appearance in 1993, in which the outmatched Kings fell to the Montreal Canadiens in five games.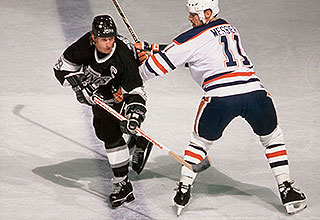 Despite Gretzky's failure to bring a Cup to Los Angeles, he would go on to win four more Hart and Art Ross trophies during the period, and also surpass Gordie Howe's all-time point and goal-scoring records.
Following a short stint with the St. Louis Blues, the remainder of Gretzky's NHL career was spent with the New York Rangers. Although he continued to lead the team in scoring, as well as maintain an impressive point-per-game pace, a lack of superstar teammates prevented Gretzky's Rangers from reaching the level of success to which he'd become accustomed.
That's all hockey is: open ice. That's my whole strategy: find open ice.
Following his retirement in 1999, Gretzky became the ninth and final player to be immediately ushered into the Hall of Fame, and the first in history to have his jersey number retired league-wide.
This period may have marked the end of The Great One's playing career, but it did not slow his involvement with the game he helped to redefine. Career highlights since retirement include positions as minority owner and Head Coach of the Phoenix Coyotes, Executive Director of 2002's Gold Medal-winning Canadian Men's Olympic Hockey team, owner of the popular Toronto bar and restaurant Wayne Gretzky's, winemaker with the celebrated Wayne Gretzky Estates Winery, and philanthropist with his own Wayne Gretzky Foundation and countless other charitable endeavours.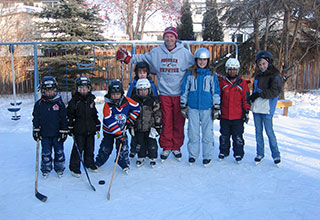 Despite all of these accomplishments, however, Gretzky's proudest role is as a father and a husband. He and his wife Janet have five children: daughters Paulina and Emma and sons Ty, Trevor and Tristan.
For a detailed year-by-year account of Wayne Gretzky's life and career, including details from many of the tournaments and events not included in this biography, please refer to the complete career timeline.
View full details